FR | EN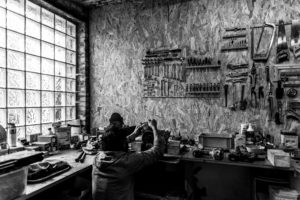 Expertise
Since 2012
Artist Advisor
Supervision : conception, production and fabrication of pieces of art.
2020
Creation of a Workshop-Laboratory
in collaboration with Largo Space
Peniche, Portugal
2014 – 2019
In charge of Pôle Installations – Le Fresnoy, Tourcoing
• Coaching a team of visual artists, programmers, developers, engineers, researchers, designers, builders, decorators;
• Expertise, study and support of projects;
• Training;
• Manufacture models and prototypes;
• 2D / 3D modeling;
• Supervision and support of construction / manufacturing;
• Design consulting in close connection with the exhibition curator, scenographer and technical director;
• Management and development of the construction workshop and FabLab, according to the projects and the evolution of techniques, materials and new technologies.
2012 – 2014
Trainer in prisons
Initiation to the professions of architecture and construction.
2010 – 2012
President co-founder
Woodeum SAS (Formerly Bois & Futur Workshop)
Builder of passive and bioclimatic wood houses.
2006 – 2010
Project Manager
ERE
MOE, assistance to the MOA, SPS coordination.
2003 – 2006
Founding Director
ETC Renovation
Renovation of apartments.
1999 – 2003
Operations Director
TFCS
Renovation of apartments.